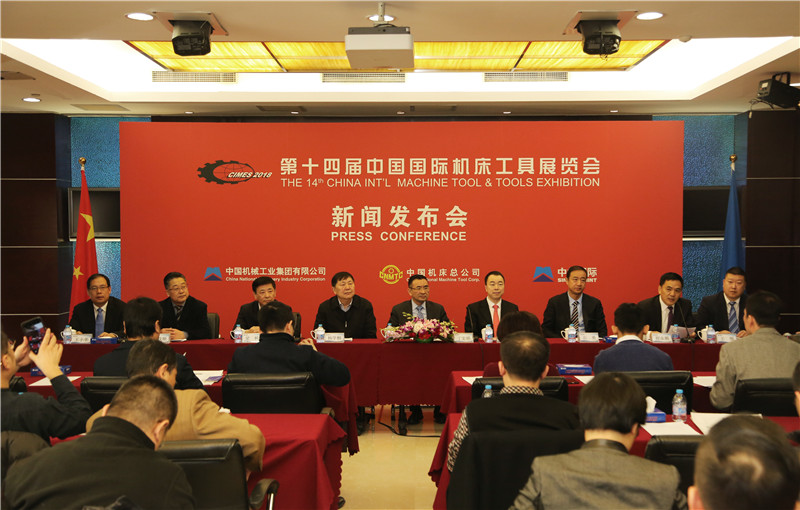 Mr. Ding Hongxiang, Deputy General Manager of China National Machinery Industry Corporation (SINOMACH), Yang Xuetong, Vice President of China Machinery Industry Federation, Zhao Lizhi, Party Secretary and General Manager of China National Machinery Industry International Co., Ltd. (referred to as SINOMACHINT), Liang Feng, General Manager of China National Machine Tools Corp (CNMTC), Shi Yong, Deputy President of the Institute of Mechanical Industry Information, Cheng Yongshun, Deputy General Manager of SINOMACHINT, Wang Yue, General Manager of Beijing Capital-MAC Exhibiting Service, Ltd. , and Xu Zhengshun, General Manager of CNC Machine System of Siemens (China) Co., Ltd., and Wang Xiaohua, General Manager of the North Operation Headquarters of Han's Laser attended the conference. The meeting was chaired by Cheng Yongshun.
Organized by SINOMACH, SINOMACHINT, and CNMTC, this exhibition will be hosted by Beijing Capital-MAC Exhibiting Service, Ltd. at the Beijing International Exhibition Center on June 26-30, 2018. Over 1,300 exhibitors from 29 countries and regions are expected to attend the event, which will be launched over an exhibition area of 120,000m2. More than 2,300 main bodies of machine tools, about 10,000 measuring and cutting tools and functional units of numerical control systems will be showcased.
In his speech, Ding Hongxiang commented that as a professional exhibition directly serving the development of the machine tool industry, SINOMACHINT has always been committed to creating a forward-looking, leading, and facilitating industrial platform for showcasing, information communication, thinking congregation and cooperation for the latest technologies and products. At present, CIMES has become the third largest annual event of its kind, following the German EMO and the Chicago IMTS. New ideas and resources of the SINOMACH and its partners will be injected into this upcoming exhibition. Ding also pointed out that SINOMACH would integrate its scattered exhibition resources in SINOMACHINT for building a large exhibition platform, to adapt to the development trend of the convention and exhibition industry in the new era, to better implement the strategy of state strengthening via promoting the manufacturing industry, and the "Belt and Road" Initiative, to adapt more quickly to the transformation of China's economy from high-speed growth to high-quality development and to better serve the real economy.
Subsequently, Ding Hongxiang stated five expectations of the SINOMACH exhibition platform. First, efforts should be made to evolve into a grand event for the industry, to serve the machine tool industry and to give full play to its forward-looking, leading and practical roles for the development of the industry. Second, efforts should be redoubled to establish a new exhibition concept and continuously improve the level of exhibition. Third, a new path should be explored for developing exhibitions, and continually cement the new advantages of the exhibition. Fifth, internationalization and professionalism should be upheld in organizing exhibitions, and the principle of organizing boutique exhibitions should be followed. Fifth, the efforts of the industry players should be rallied for building a large exhibition platform.
Zhao Lizhi introduced the core business scope of SINOMACHINT, a subsidiary of SINOMACH, and its achievements. He said that SINOMACHINT will actively explore the path of self-transformation and upgrading, and strive to serve exhibitors, audiences and industries with new ideas, new technologies, new methods and new models. CIMES 2018 will closely follow the developmental pulse of the times, tap the market needs in depth, analyze the development trend of the industry and bring together outstanding exhibitors and buyers of financial strength, to build the most characteristic trading platform in the Chinese manufacturing industry for machine tool manufacturing.
In addition, Zhao Lizhi announced to the media that the Blue Book on the development of the Chinese Machine Tool Industry (2018) jointly prepared by SINOMACH, SINOMACHINT, CNMTC, and Institute of Mechanical Industry Information will be officially released at the upcoming CIMES.
Yang Xuetong analyzed the development of the industry in his speech and expressed his recognition of the contributions of CIMES. He said that "while looking forward to the new progress and development of the domestic machine tool industry, we must also strengthen trade and cooperation with advanced overseas companies to jointly meet market demand. CIMES 2018 is a great opportunity."
According to Wang Yue, this upcoming exhibition has become China's largest biennial international exhibition of machine tools. A WeChat online exhibition service platform will be launched and dozens of professional seminars in different industries organized. In addition, live demonstrations of the finals of the "2nd National Cutter Application Technology Contest" co-sponsored by CNMTC, China Metal Cutting Tool Engineering Association(CMCETEA), and SINOMACH Exhibition will be held in W4 Hall of CIMES 2018 and certificates awarded on site.
Nike Zoom Kobe IV