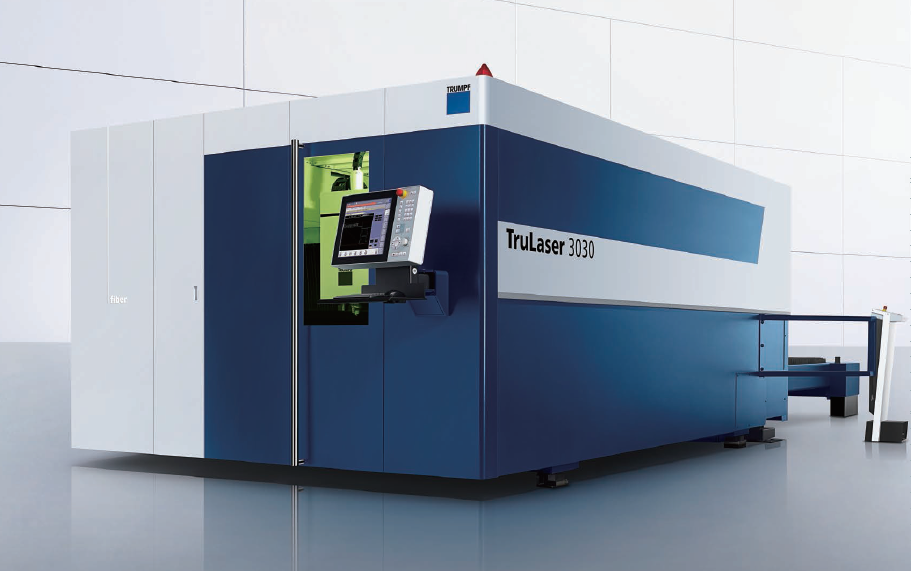 TRUMPF (China) Co., Ltd is a wholly invested subsidiary of the German TRUMPF group. The first subsidiary in China was founded in the year 2000. We offer our customers the most innovative and high-quality products as well as solutions to their problems – in sheet metal processing, laser-based production processes and electronic applications.
One of the products the company will present at the show is the TruLaser 3030 fiber. Extremely high flexibility and profitability are two attributes that describe the TruLaser 3030. The TruDisk 3001 solid-state lasers enable the processing of thick and thin ferrous and non-ferrous metals and, in addition, provides you with an extra productivity benefit in thin sheet metal. The automatic nozzle changer has proven to provide for minimum downtimes. Tube and pipe processing capability is offered with RotoLas options.
The TruLaser 3030/3040 offers: profitable mild steel processing at all sheet thicknesses up to 0.800"; production advantages in the thin-sheet range; one-cutting-head strategy and automatic nozzle changer result in minimized downtimes; and, all of this results in maximum energy efficiency.
The TruLaser 3030 has a table size of 60" x 120" and the TruLaser 3040 has a table size of 80" x 160".
Flexibility
Sheet thicknesses of up to 0.800" can be cut.
Greater variety of material: The cutting of copper and brass with TRUMPF cutting data.
Problem-free processing of sheets with film coating without previous vaporizing.
Offers the option of converting flat metal to tube processing with the RotoLas accessory.
Productivity
The one-cutting-head strategy with collision protection and automatic nozzle changer result in minimized downtimes.
Provides higher machine dynamics due to direct drive.
Presents a productivity advantage with thin sheets thanks to the TruDisk solid-state laser.
Fast and efficient post-production and efficient utilization of remainder sheets thanks to the Drop & Cut function.
Produces high throughput and high process reliability due to intelligent functions.
Operator friendliness
Operator has a good view within the machine with total laser safety.
Ergonomic control panel with graphic user interface and self-explaining touch function operation.
Simple maintenance and internal cleaning possible because of easy accessibility.
Efficiency
The enhanced chillers in the laser cutting machines reduce power consumption per year.
The concept of "flying optic" guarantees low scratches and thus a minimum of scrap.
The integrated machine concept enables a very compact installation even in confined spaces.
The protective glass of machines with a solid state laser minimizes the wear of the lense.
Tel:+86-21-6171 9000
Fax:+86-21-6171 9001
E-mail:info@cn.trumpf.com
Website:www.cn.trumpf.com
Booth No.: E3-B101
Miesten kengät laajasta valikoimasta