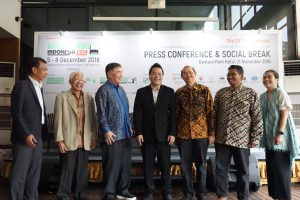 It integrates industrial production and manufacturing with the new digital-based models in Indonesia, aiming to achieve the world's 10 largest economies by 2030. Now, Indonesia has been listed as one of the world's top 10 manufacturing industry by the United Nations Industrial Development Organisation (UNIDO).
New this year is the co-location of Subcon Indonesia alongside Manufacturing Indonesia 2018 Series of Exhibitions. Indonesia's first subcontracting exhibition is held to provide a platform on opportunities for local subcontractors to present their capabilities in supporting market and industry needs. This is an effective way to bridge the gap between the machine makers and the end manufacturers which already exist and are actively present at the event across its various featured sectors.
One of the supporting trade association, Asosiasi Produsen Peralatan Listrik Indonesia (APPI) shared its confidence in regards to engineering capabilities developed in Indonesia. "Indonesian manufacturing and electrical companies have followed International and Indonesian Standards (SNI) where production has been adapted to comply with required order or ready stock specifications. Although some materials and components for downstream industrial products are still imported, industrial and infrastructure projects can utilize on national design and engineering. This clearly will have a positive impact for national economic growth," added Karnadi Kuistono, Chairman of APPI.
Manufacturing Indonesia 2018 is a strategic converging point for all attendees with industry players and notable exhibitors including DMG Mori, First Machinery Trade Co, Jaya Metal, Kanematsu KGK, Mitsubishi Electric Indonesia, Somagede and Yamaha Motor Parts Manufacturing Indonesia where technologies needed will be presented in the four-day event. Please visit www.manufacturingindonesia.com for more information.

Mercurial Superfly High