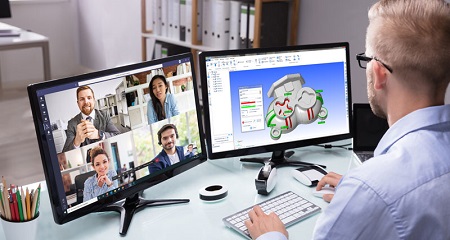 Free offline licensing and remote access options to help manufacturers remain productive while working from home
Through all of this, the company recognises that its employees and customers are relying on Hexagon more than ever. As the pandemic disrupts daily life, Hexagon is responding with support for essential services and creative solutions.
Smart manufacturing solution portfolio
To help customers remain productive while working from home, Hexagon's Manufacturing Intelligence division is offering a range of free offline licensing and remote access options designed to enable efficient home working for manufacturing professionals facing new productivity challenges during the COVID-19 outbreak.
Home working options will be provided for Hexagon's production software and metrology software offerings, as well as the MSC Software range of CAE solutions, at least until 30 June 2020. Manufacturers running metrology equipment in factories can remotely monitor and analyse how key assets are performing for free with HxGN SFx | Asset Management. Users will also have access to additional online learning resources.
"The purpose of our smart manufacturing solutions is to improve quality and productivity and this challenge is especially acute during this time of extensive home working" said Paolo Guglielmini, President of Hexagon's Manufacturing Intelligence division. "So, to support the industries we serve, we're offering special access to our software and learning tools for both current customers and non-customers who can benefit from our technology."
"Like many businesses in the manufacturing sector, we have many employees working from home at the moment and we appreciate that giving them the right tools to work remotely is essential to their wellbeing and success. By offering learning and remote working solutions I hope we can contribute to maintaining productivity and quality while keeping employees in manufacturing safe."
Updates to NCSIMUL digital twin software
An array of new and enhanced functionality keeps the latest digital twin software from Hexagon at the very forefront of Industry 4.0 Smart Factory technology, by increasing CNC program quality through automatic and predictive analysis.
NCSIMUL virtually builds the real-life machining environment to avoid errors, decrease set-up times and switch CNC programs between machines.
The 2021 release features a new comparison mode which detects excessive material, during a fast and hidden simulation. It shows a solid comparison between the CAD/CAM models or previous cut stock, and the NCSIMUL simulated model.
Technical Director Philippe Legoupi says this new item of functionality is the only way to detect unwanted rest stock on a large part. It shows a list of the excess material that's left, and can also be displayed in a 3D window linked to the list. Amongst its numerous benefits: finding small, missing drill holes on large aerospace components; and finding missing holes which need to be connected on mould bodies and hydraulic parts.
Integrated to NCDoc, Dimensioning is a new function which creates control instructions for operators during the CNC process. "It defines a dimension check-list with user-defined tolerances; automatically defines the minimum measurement needed for each cut; generates a comprehensive view for the programmer and operator on the 3D simulation; and works with the NCDoc documentation template." This saves time and money, particularly when using the Wizard to create the correct number of measurements, even when using a probe tool on the machine.
A new set of options quickly evaluate tools that can benefit from air-cutting optimisation, with the 'out of material working time' in the sequence list. This works with the NCDoc documentation template, and customises stock nearness values for each sequence, and the optimisation is automatically stored for future strategies.
Enhancements to editing Setup reduce simulation time by merging fixtures, parts and rough stock elements from one, or multiple, CAD files read in NCSIMUL. "It creates simple geometric rough stock – either cylinder or cubes – an automatic part envelope; and all setup elements can move up or down."
Improvements to mill-turn tooling management for ESPRIT CAM and TopSolid CAM interface: With a new 'Configuration interface file' associated to each digital twin, it is now possible to define the mapping of tool assembly positioning – station number, turret and orientation –between the CAM system and NCSIMUL. This means the interfaces can crate NCSIMUL projects, ready to run the simulation.
A simplified 2D display for turning parts improves the analysis of dynamic rough stock. Philippe Legoupi explains: "It quickly displays the tool and toolpath next to the cut model and reference part profiles."
The document centre is now available online, and includes additional descriptions of the released versions, including more details under the 'case studies,' and 'focus on' tabs.
Finally, for cutting tool wear simulation as defined in the tool magazine, a button now runs the simulation for tools either 'fresh out of the box,' or 'worn down.' User-defined values apply for each cutting tool, and the system can check if a worn tool will generate alarms or collisions with unwanted rest stock material. This defines the sharpening rules, and decreases tool consumption.
Concluding, Philippe Legoupi says: "The enhanced functionality in NCSIMUL 2021 further increases shop-floor productivity and reduces manufacturing costs."