As Barry Callebaut targets to become carbon and forest positive by 2025, it has been working with the environmental sustainability consultancy, Quantis, on a carbon footprinting methodology. The aim is to assess how cocoa farming affects land-usage change and deforestation, explains Barry Callebaut. This is part of the Swiss company's Forever Chocolate commitment "to make sustainable chocolate the norm by 2025."
The chocolate manufacturer sources cocoa from several cooperatives and farms. To know how much each source contributes to its direct land-use change emissions, the company has partnered with Quantis for data collection. The information will come from GPS, satellite imagery, and farm-level data.
Data analyses will help Barry Callebaut create a "better link between forest protection activities and carbon accounting at farm level", and help cocoa farmers adopt natural resource management.
Barry Callebaut is also encouraging other companies to do the same assessment as part of their sustainability goals. Read more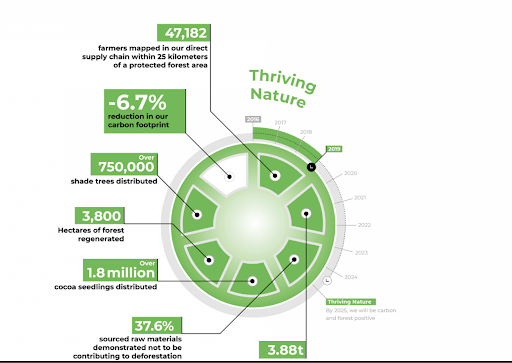 Barry Callebaut's Forever Chocolate progress towards becoming carbon and forest positive by 2025. (Photo: Barry Callebaut)