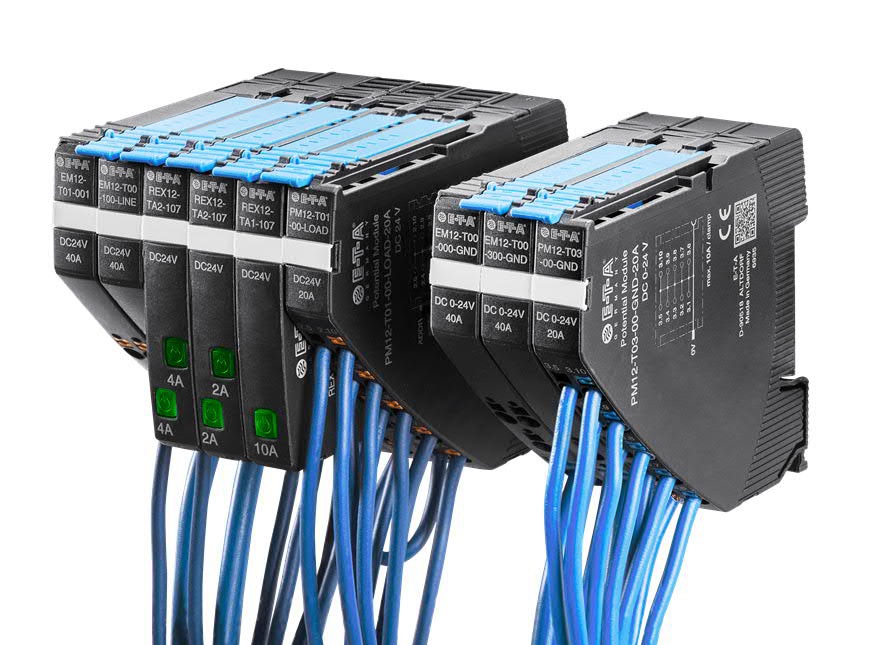 We offer one of the widest product ranges in the world regarding overcurrent protection and power distribution - ranging from single components such as circuit breakers for equipment protection, electronic circuit
protectors, DC Disconnects and solid state relays to intelligent complete systems. We'll be pleased to design tailormade solutions for you based on your requirements.
Products and systems for overcurrent & short circuit protection
REX System
The REX system allows the customer to build up a very economic DC 24 V supply with a modular and cost-effective protection and distribution solution.
Without any connection accessories and minimal wiring time.
ControlPlex ®
ControlPlex® systems combine selective overcurrent protection, power distribution of load circuits (DC 24V) and switching and resetting of load circuits with the capability to communicate with superordinate control
systems. Increases machine uptime through clear failure detection, high transparency and remote diagnosis
Provides flexibility through ease of assembly or disassembly, modular design and convenient adjustment
Saves 50 % time through innovative and flexible connection technology
Saves cost as no further
accessories are
required
Saves space
because each module
has a width
of only 12.5 mm
E-T-A Circuit Protection & Control (Shanghai) Co., Ltd
Booth No.: E3-E105 (Bavarian Pavilion)
Air Jordan VI 6 Shoes